GAUI X7 Precision ABEC-5 Sealed Front Bevel Gear Mounting Block Bearing
NOTE: This is a Direct replacement upgrade for Stock GAUI Part #217503


Replace the Stock X7 Front Bevel Gear Mounting Block Bearing with this Precision ABEC-5 Sealed bearing, with much higher tolerance, Longer life, and smoothness.

These bearings are sealed and pre-greased!

The Black Non-Contact Rubber seales keep Gear dust and metal shavings out, to help protect the Balls and Races from premature wear!

Size - 4X9X4mm ABEC-5 Bearing

Bearing Upgrade Kit Includes: 1 bearing.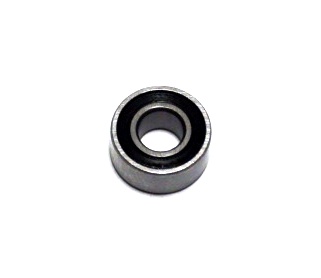 If a Retailer/Vendor does not specify which ABEC rating, it's likely that's it's ABEC-1, or even lower! Most helicopter kits come standard with ABEC-1 steel bearings. ABEC-5 bearings are much tighter in tolerance, thus providing much higher accuracy, better efficiancy, longer life, and smoothness.
NOTE: The chart below shows the tolerance differance between ABEC-1, ABEC-3, and ABEC-5 bearings.