GAUI X7 Precision ABEC-5 Main Blade Grips CERAMIC Thrust Bearing Set
Product Description
ABEC-5 Main Blade Grips CERAMIC Precision Thrust Bearing Set - GAUI X7


Replace the GAUI X7 Stock Thrust bearings with these Precision ABEC-5

CERAMIC

Thrust bearings with much higher tolerance, Longer life, and smoothness.

Ceramic SI3N4 Rolling Element Material

These Ceramic Thrust bearings will last much longer than stock helicopter bearings.

Ceramic Thrust bearings can take

much

more pressure than the stock thrust bearings due to the ceramic balls being much harder than steel.
Size - 10x18x5.5mm Thrusted Bearing.

Note: This set of Thrust bearings are an exact fit replacement for stock X7 bearings part# G-217511

Bearing Upgrade kit comes Complete with 2 full bearing sets for both main blade grips, (6 pcs) Pictured Below.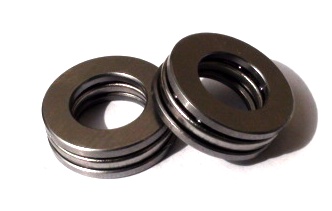 Silicon nitride ball bearings are harder than normal steel, which reduces contact with the bearing track. This results in 80% less friction, up to 10 times longer lifetime, 80% higher speed, 60% less weight, the ability to operate with lubrication starvation, higher corrosion resistance and higher operation temperature, as compared to stock steel thrust bearings.

Find Similar Products by Category